2018 Summer Horse Camp Dates-Now taking reservations for all camps
June 19-22
Day Camp Only

2 Day Spots Available

June 26-29
Day Camp Only

Wait List Only

July 3-6
Day Camp Only

1 Day Spot Available

July 10-13
Day and Overnight Camps

Wait List Only

July 17-20
Day and Overnight Camps

Full (Advanced Camp-Deerfield Students only)

July 31-Aug 3
Kiddo Day Camp 9 am-2 pm

Wait List Only (Ages 5-7)

August 7-10
Day and Overnight Camps

2 Overnight Spots Available (Teen Camp Ages 13-18)

August 14-17
Day and Overnight Camps

Wait List Only

August 21-24
Day and Overnight Camps

Wait List Only

Enrollment has begun. Taking reservations via email so fill out our contact form to book your date.
Day and Overnight Summer Horse Camps for Seattle and Eastside students
Deerfield Farm is thrilled to be able to offer another fun-filled summer for kids aged 7 and older and welcomes students of all abilities to participate in our amazing horse camps! Campers will have the opportunity to experience an amazing connection with our horses in a safe and empowering environment.
They will also learn about gratitude, leadership and compassion through their interactions with our staff, horses and other campers. Students will have the chance to unplug from their screens and social media while they work and play on our beautiful farm.
All camps run Tuesday through Friday and day camp hours are 9 am to 3 pm. New this year is a special Kiddo camp that runs 9 am to 2 pm from July 31st through August 3 and open to children 5-7 years old.
Deerfield Summer Camp Prices
Day Camp is $560
Overnight Camp is $785
Please note-we have early drop-off and late pick-up available for $10/hour. For combination camps, you can sign up for just the day camp portion OR sign up for the day and overnight camp.
May camp tour at Deerfield Farm
Families interested in attending a camp tour must arrive on time as we will start at 10 am sharp. We have lots of information to pack into an hour. The tour will end at 11 am and you do not need to reserve a spot for the tour, just show up on time.
Saturday May 5, 2018 (10-11 am)
How do I book my date?
This year we are taking reservations via email so once registration opens on January 1st, please fill out our contact form to reserve your camp dates. If you have never been to one of our camps and want to learn more about our camp program, please plan to attend one of our three camp tours listed above.
All our summer camps book up fast so while the calendar above may show that we have open spots, the number of openings may be different by the time you email. The best thing to do is to make your reservation (via our contact form) right away to ensure your favorite date is available.
Camp full? Get on our waitlist
If the specific camp you want to attend is full, you can email and ask to be put on our waitlist. If we have a cancellation, we'll call you and let you know about the opening so you can book the spot.
Day camp details
Day camp begins at 9 am with a group meeting in our Yogo Studio where students are first introduced to the idea of mindfulness that will be a trend during their stay with us. They will learn simple yoga postures to prepare them mentally and physically for an exciting day at the farm.
All day campers will have a structured riding lesson in the morning where they will ride in small groups so we can ensure they are well-supervised and safe while interacting with the horses. After lunch, students will be involved in fun team-building games on the lawn and shorter interactions with the horses, including learning to properly and safely care for them.
Camp ends at 3 pm and students will need to bring their own lunch, riding helmet and riding boots.
Double your fun with overnight camp
Overnight Campers will have a fun-filled week that begins at 9 am on the first day. They will spend 3 nights here at the farm with camp concluding at 3 pm on the final day.
Campers will have a smiliar morning as the day camp students and following their second lesson in the afternoon, they will have some down-time. We will ride daily and have other horse activities during the first half of our day. Overnight campers will practice gratitude at each meal they eat at the farm and will learn leadership skills through fun and interactive games.
Don't forget to pack a fun or wacky costume for our Dress-Up Dinner night! The evenings at Deerfield are never quite the same though they usually include playing games, enjoying bon-fires and learning more about the care of our horses and farm. Of course, each camp brings a different experience and different energy to our overnighter's camp!
Spots fill quickly so fill out our contact form to reserve your camp date.
Summer Horse Camps for Seattle, Bellevue, Issaquah and North Bend
Day and Overnight Summer Camps
Deerfield Farm has been running sensational camp programs for Seattle and the Eastside, including Redmond, Bellevue, Issaquah, Snoqualmie and North Bend for over 30 years.
Located in rural Issaquah WA, Deerfield Farm is just minutes away from I-90 so it's convenient for any student in Seattle or the Eastside to attend one of our camps.
Children don't need to belong to the Deerfield riding program or be a current horseback riding student to attend one of our camps.
We welcome any and all children who are interested in riding horses, nature and having fun.
Special camps are new this year
July 17-20 Advanced camp-Deerfield Students only.
July 31-August 3 Kiddo camp for ages 5-7.
Aug 7-10 Teen camp for ages 13-18.
Looking for fun activities for Seattle kids? Sign up for summer camp
Open enrollment has started for all camps so interested campers should fill out our contact form to reserve your spot.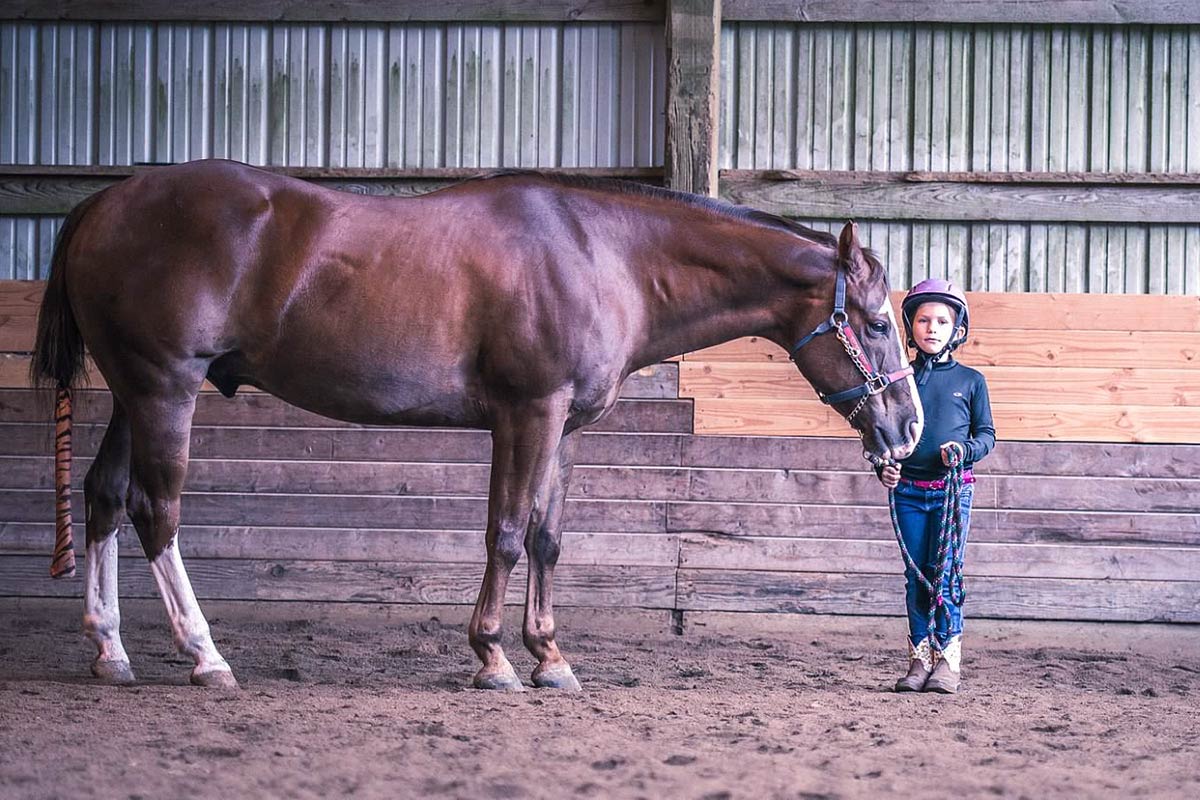 Camp will consist of the following:
Daily horse activity
Coached lessons by skillful instructors
Learning mindfulness, gratitude, enthusiasm and self-confidence
Teaching leadership through fun games and activities
Being challenged to be your best self!
Parent presentation at 2:30 on the final day of camp
All campers will start their day in the yoga studio learning basic yoga poses, mindfulness and stillness before interacting with the horses.
This practice allows our students to experience creating a calm energy so that they stay safe in the barn and create a stronger connection with the horses.
Teen Camp for ages 13-18
Our Teen Camp is designed to address some of the issues facing teens in their school and social settings, such as peer pressure and the role of social media.
In addition to riding, we will focus on learning skills to create and promote leadership while discussing environmentalism and sustainability.
The Deerfield Farm staff is excited about our camps and we look forward to horsing around with all the camp kids! We hope you'll join us in our camps.
Our goal is to touch the lives of young people interested in finding the life skills needed to become responsible, compassionate and grateful individuals through the activities offered at Deerfield Farm.