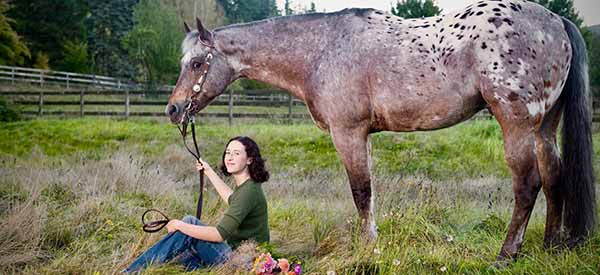 Deerfield Farm News
Deerfield Farm is excited to congratulate Team Leader Margot Lange on her acceptance into the illustration program at Laguna College of Art and Design. Margot has been an outstanding role model, equestrian, and Team Leader.
She has been a part of our community for the last 9 years and we will miss her kind and loving spirit in the barn on a daily basis, but know that her impact on our Team will continue to be felt even in her absence. Margot passed leadership to our new Team Leader Samantha Cichos in July, and we are excited to see what Samantha will help create for our community.
When asked to reflect on her time at Deerfield, this is what Margot created:
"Lying just behind a rusty green gate
down a long, twisty road
is a little farm with two red barns filled with horses.
And it's the most magical place anywhere.
I have been lucky enough to call our farm my home
and this team my family
for five busy, fun, wonderful, life-changing,
Magical years.
If you pass by our driveway and peer through our gate,
you might not see it.
But when you learn to truly love our farm
and our family of two and four legged creatures
The magic shows up everywhere.
You can feel it in the soft vibration of hooves in the pasture nearby as you sit in the cool grass;
in a soft, grey velvet nose brushing your hands and pockets, hoping for a snack;
In the tall green mountains watching over you;
in birds calling through the clear sky;
in the comforting smell of a warm, dusty horse soaking in the sun;
In the sound of laughter echoing from the arena;
In all the red and yellow bags lined up along a wall;
In the spots on a horse's back;
Throughout a walk in the cedar forest and up to the ghost tree;
In the rough leather of an old and well-loved saddle;
In many cold, tiny sparks on your face as mist filters down from the hill;
in a coach's powerful voice;
in the feeling of a friend's arm linked through yours;
And in each teammate and each horse.
Growing up in such an incredible place is a privilege I don't take lightly and something I am thankful for every day.
I am who I am today because of this place–
Because of the beautiful horse who taught me to be loving and fierce,
my amazing, inspiring teammates who helped me learn compassion, confidence, and leadership,
And because of my coaches, who truly believe in the best version of me.
Life is magical if you're open to seeing it.
And if I get lost in the darkness and heaviness of the world,
The long and twisty road home will always be etched into my heart.
And I know that the rusty green gate at the end of it will always be open for me."
Congratulations Margot! Carry the magic of our farm with you wherever ever you go, and always know you have a home at Deerfield.
Safety Practices
We are accepting a limited number of new students and practices, such as wearing masks and social distancing, have been put in place to keep everyone safe.
2022 Camps
Our summer camps are full. Feel free to fill out our contact form to get put on our wait list in case an opening becomes available.
Unstoppable Kindness going strong
We are so proud of our students and their non-profit Unstoppable Kindness! Every month our teams make 100 sack lunches to feed Seattle's homeless.
Since 2012, Unstoppable Kindness has been dedicated to eradicating homelessness in Seattle and developing the leadership skills of young women. To find out more or to donate, please see their website Unstoppable Kindness.
College Updates
We want to give a special shout out to Malena Palmer who is attending UC Davis on a scholarship and is riding on their equestrian team.
In other news, both Julie Kelly, a Senior at Fresno State and Haley Pembroke, a Senior at Auburn University, are still making us proud by riding on the college level.